Custom Mini Fortune Telling Ball

This is Mini Fortune Telling Ball you may see on the moive 'friends' or others movie i do not remember.
It is small keychain fortune telling ball you can hang with your key of your car.. It is real cool that if you can not make a decision...
Magic 8 Ball Keychain With Metallic Silver Color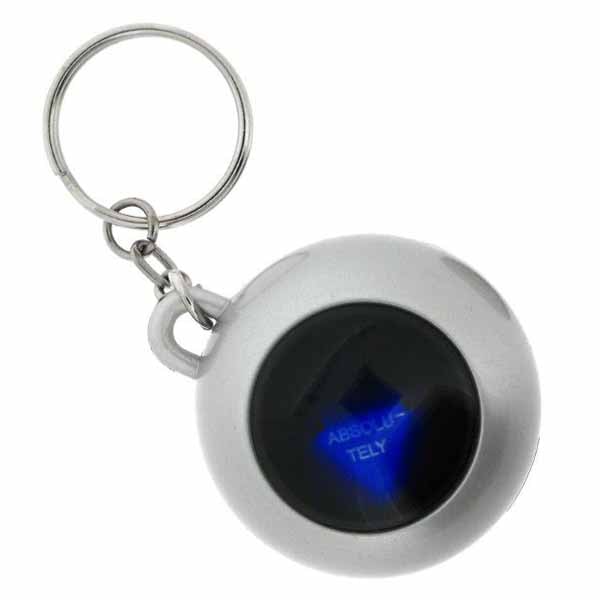 Custom Green Magic 8 Ball Keychain
It is our mini magic 8 ball keychains in custom color (PMS 802C) with their logo printed on it, shipped by air.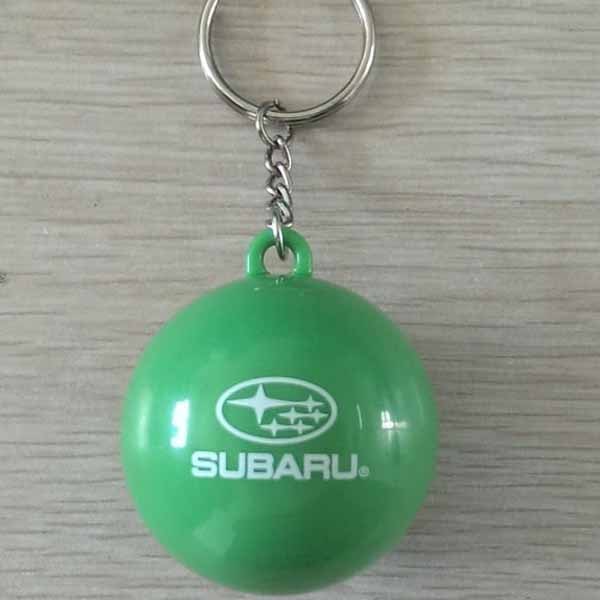 Magic 8 Ball Keychain Digital Proof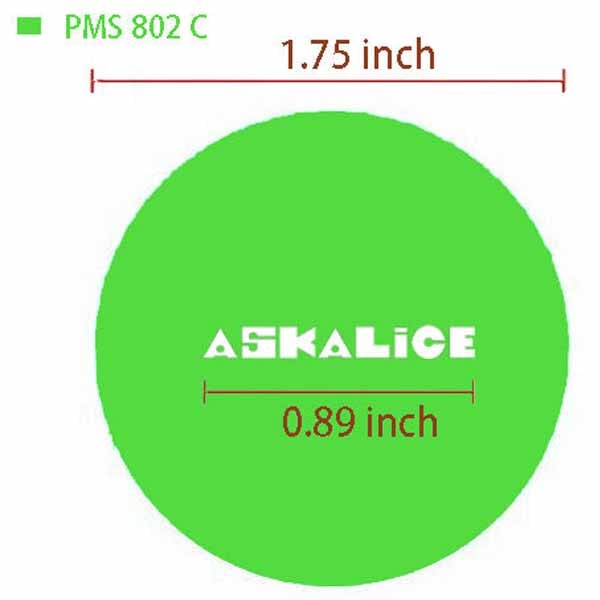 Custom Magic 8 Ball Keychain
You can take this magic 8 ball anywhere as your like,you can use keychain in the magic 8 ball and use it when you like.
it is smaller than other big ball like 10 cm or 7 cm but easy to take away..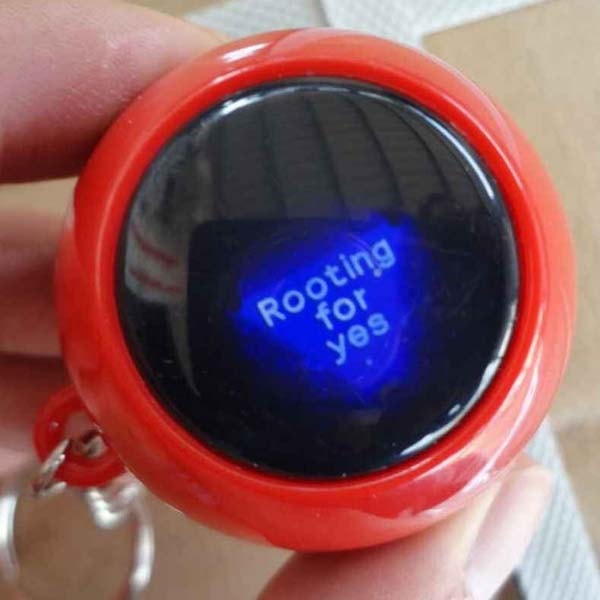 Custom Magic 8 Ball Keychain Feature:
Diameter: 2 inches or 4.5 cm
Logo Imprint Size: 2x2cm
Custom magic 8 ball responses or sayings are available
Classic 8 ball pool is available
Custom Keychain Fortune Telling Ball Packing:
Inner white box for each ball
50 pcs per outside carton
Carton size : 30.0 x 25.0 x 25.0 cm
NW: 3 KGS ; GW: 3.5 KGS
Custom Magic 8 Ball Responses Or Sayings
The sayings or answers looks like a pyramid with blue background, You can have a silver background color inside...
here we have our online tool to help your design a custom magic 8 ball answers There are three lines of words totally on the custom sayings,
You can have a 11 letters on the buttom of pyramid(Custom saying) and 7 letters middle, 4 letters top.

| | | | | |
| --- | --- | --- | --- | --- |
| YES | NO DOUBT ABOUT IT | ABSOLUTELY | THE STARS SAY NO | SO IT SHALL BE |
| UNLIKELY | INDICATIONS SAY YES | POSITIVELY | ANSWER UNCLEAR ASK LATER | DON'T BET ON IT |
| LOOKS LIKE YES | CHANCE AREN'T GOOD | FOCUS AND ASK AGAIN | CAN'T SAY NOW | PROSPECT GOOD |
| NO | VERY LIKELY | CONSULT ME LATER | CANNOT FORETELL NOW | YOU CAN COUNT ON IT |
Mini Custom Magic 8 Ball Keychain With Russian Language
You may need different language or your local language like poland or russian,It works here.
Custom Magic 8 Ball Keychain With Blister Packaging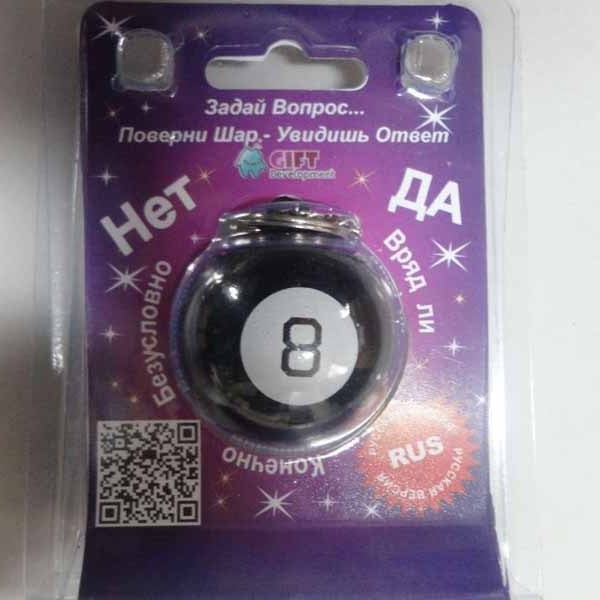 It is great packing for mini custom magic 8 ball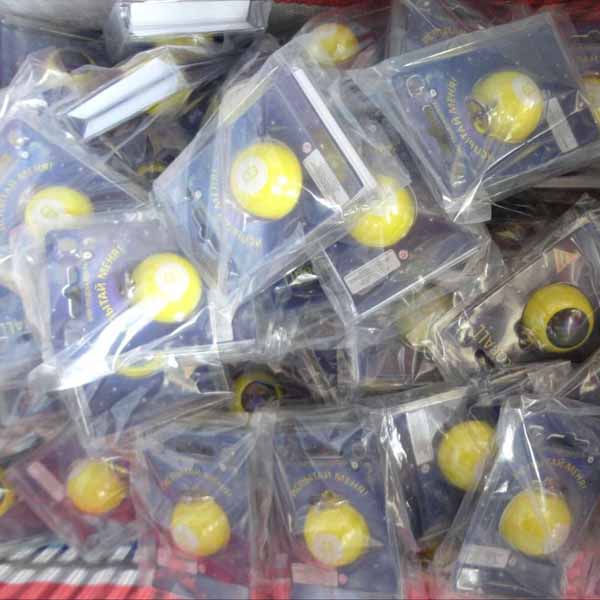 Custom Magic 8 Ball Keychain With Blister Package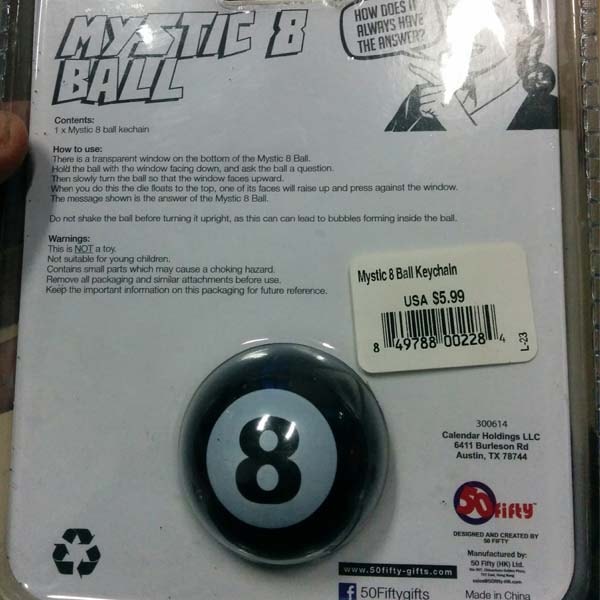 Custom Magic 8 Ball Keychain With Metallic Color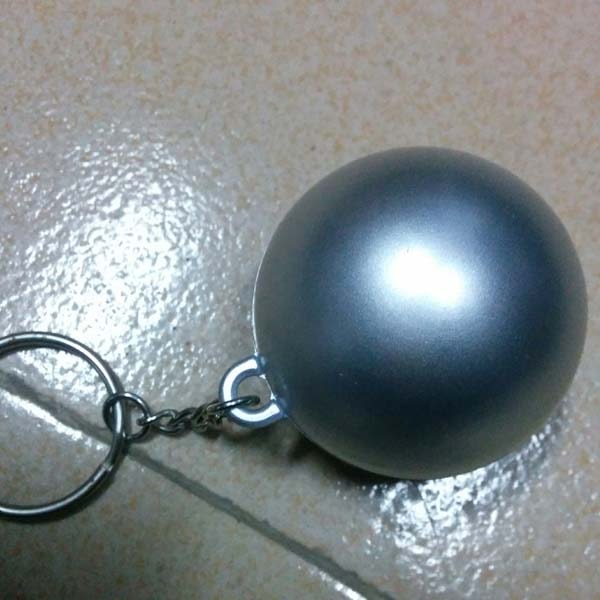 Ask Magic 8 Ball Questions
1. With the custom set up, what are the parameters we need to work within – meaning, how many characters per "saying" do we get?
About custom saying, you just need to tell me the message you want to put it in the ball,
and each saying not up to 18 characters.

2. How many sayings are in each Fortune Telling Ball?
20 Sayings. 3. Could we get delivery by (or near) May 1, 2014 if we get you all the information by 5 pm PST on Friday March 7th?
Yes, you can get it. but As I said in previously email, open the mold will cost extra 20 days, and the production time and shipping time will around 30 days.
so if you can make your decision in these days, we can inform our factory prepare in advance, and you can get this goods earlier.

4. If there are 20 "sayings" that are needed for the custom ball, can we re-use some of the sayings?
yes.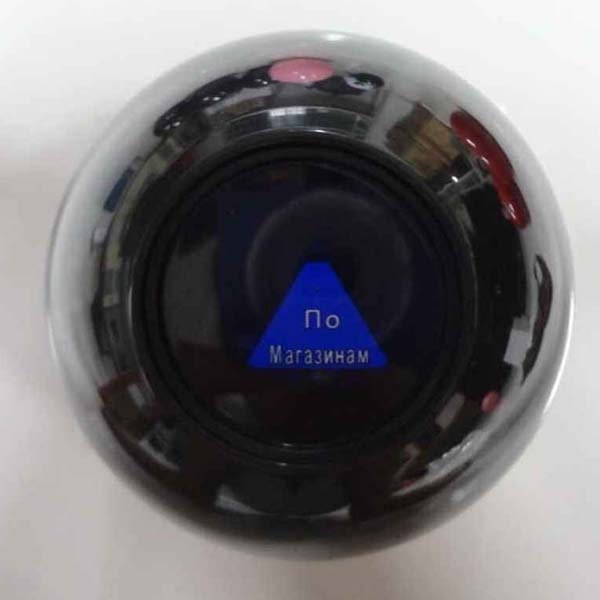 May i know your idea about our custom magic 8 ball?
Contacts
Copyright © Magic 8 Ball Answers ! All rights reserved. Web Site Design, Marketing, Advertising by KMH Enterprise